Author & Speaker
Invite Mary DeMocker to your class, group, rally or conference!
In her new book, The Parents' Guide to Climate Revolution, Mary offers witty and powerful ways to build a fossil-free future while empowering your children and deepening family bonds.
Mary has presented workshops or lectures at environmental conferences, bookstores, civic organizations, high school environmental clubs, parent councils, and in college classrooms, and elementary schools (read here about her talk that inspired fifth-graders to action that made national news). She has also spoken at or led many demonstrations for social and environmental justice.
Here are some of Mary's talks. Feel free to request topics covered in any of the 100 chapters of her book!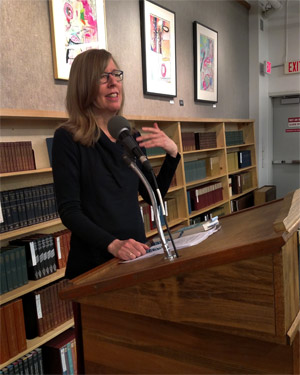 Mary will engage your audience with these talks:

1) Six Surprising Ways to Raise Creative, Empowered Kids
2) How to Design a Debt-Free Life—And Help Your Kids Avoid Student Loans
3) Planet Care as a Form of Prayer
4) How to Get Your Happy Back When You've Got the Climate Blues
5) Why There's Still Hope in Our Battle for Planet Earth
6) Foolproof Ways to Get Kids Off Screens and Outdoors
7) How Ordinary People are Foiling Big Oil's Scheme to Cook the Planet
What people are saying about Mary's talks:
"Mary's presentation to my class was a breath of fresh air to students overwhelmed by our global climate crisis. They walked in cynical and left an hour later fired up. Some said she was the most inspiring speaker they'd ever heard in any environmental studies class."
Dr. Taylor McHolm
"I have had Mary DeMocker speak in my classes multiple times and it is always transformative. I learn so much myself! Her passion, creativity and ability to not just connect with young people but mobilize the is a breath of fresh air."
Kari Marie Norgaard
"Mary DeMocker is consistently one of my undergrad students' favorite presenters. And no wonder. She brings the idea of "artivism" – the powerful addition of artistic creativity to protest – to students who have never considered raising their voices in this way. Mary is unique among presenters because she strives to make a meaningful connection, sitting with the students and asking for their stories before proceeding to raise awareness (read: blow their young minds) as only she can."
Sandra Clark
"My sculpture students were deeply inspired by Mary's lecture in our class. Her presentation motivated them to think in new and ambitious ways about the potential for art and activism to come together in public spaces. Her ideas continued to resonate with us throughout the term."
Amanda Wojick
"When you're organizing for climate justice with Mary DeMocker, get ready for a creative and tantalizing twist that at once laser-focuses the message, broadens the appeal, and jacks up the fun factor. As co-founders with Mary of 350 Eugene, we've found her spirited gift for creating and directing edgy, iconic, and movement-building public art events to be invaluable to our work. The Pacific Northwest's "Thin Green Line" has a champion in Mary DeMocker."
Patty Hine & Deb McGee