Welcome to one of the oldest and most-loved instruments in the world!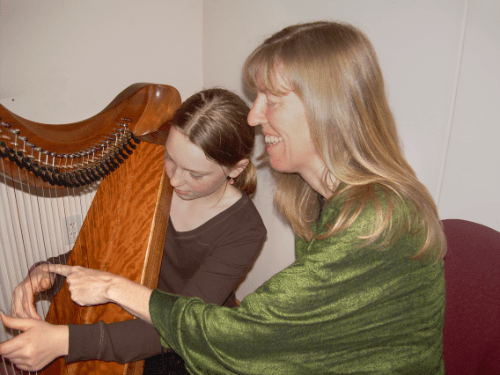 Harps are delightful to listen to and play...
…and studying music has been shown to enhance wellbeing and child development. I love helping each student thrive on their journey with this ancient and beautiful instrument.
Samples of My Pedal & Folk Harp Playing
About Mary DeMocker
I've taught private harp lessons and workshops since 1988. I teach all levels, beginning to professional, and all musical styles as well as note-reading, musicianship, sight-reading, ear training, and theory. For those interested, I teach improvisation, composition, and storytelling, and support students in music thanatology programs (for healing and transition).
I began playing harp at 9 and was trained in both the Salzedo and Renié-Granjany methods. I teach the latter as it's more relaxed and ergonomically efficient and produces a lovely tone.
I studied pedal harp performance with Eileen Malone at The Eastman School of Music and with Sally Maxwell at the University of Oregon School of Music. I received a 1987 National Endowment for the Arts grant for harp performance. I've performed widely, including solo appearances at major music festivals, on the streets of New York City and Europe, and in The Cathedral of St. John the Divine, where I was privileged to work with legendary composer John Cage. I'm not performing in public due to injury but play for my students and love guiding their musical journeys.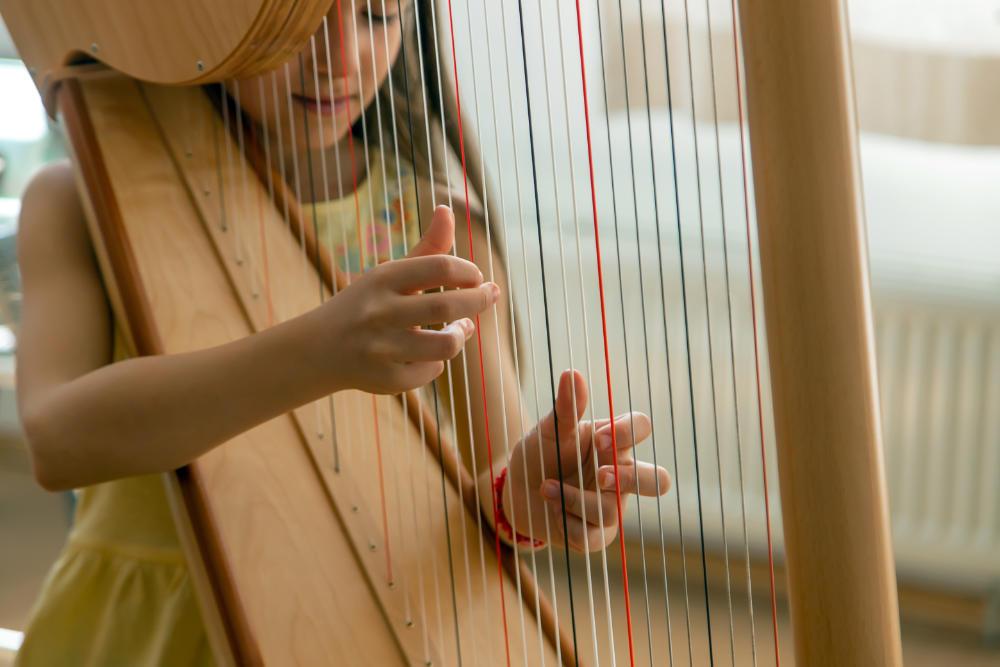 I really like Mary. She is very helpful, and the workbooks she gives me are fun. She shows me very pretty songs to play and is the nicest teacher.
-Pascal, age 9
About harp lessons with me
I teach all ages 7 and up. Lessons are custom-made for individual students' learning styles and musical passions. I happily welcome homeschoolers during weekdays. I use some Suzuki approaches (ie community and repertoire-building; strong ear training; encouragement of parental involvement for young students) but am not a Suzuki harp teacher, nor do I know of one locally. I teach beginners to read so they can be musically independent quickly.
Performance opportunities
I offer quarterly recitals ("harp parties") that encourage students to perform. It's a wonderful chance to meet other harp students, play as an ensemble, build performance skills, and try various harps, especially when researching to buy a harp.
Pedagogical philosophy
Students and / or parents choose the level of rigor. I use a whole child approach and believe children learn better when they feel loved, listened to, and excited about their lessons and pieces. I suggest practice routines and durations but don't advocate forcing children to practice or endure pieces they dislike or that frustrate them. I believe in making lessons fun and tailored to each student. I give out animal stickers 
Location
Lessons are in my garden studio on a 36-string Dusty Strings harp. No need to transport most harps for lessons (only specialty harps).
I teach pedal harp students at their homes for an added fee.
I live in South Eugene near the U of O. There's ample street parking and I also have a driveway.
Tuition
$55 per hr. and $45 for 45 min; ($32 for 1/2 hr. lessons, available only for children once they read music). Lessons are prepaid for the month when times are reserved. Harp rental fees for the month are also prepaid. I accept cash, check, Venmo, PayPal.
I offer a free 30-minute Meet and Greet so you and / or your child can see the studio, talk about your harp goals, try a harp, and decide if my style feels right for you. I don't do pressure or sales pitches; this is a sacred endeavor for me, and, I believe, for every person called to the harp.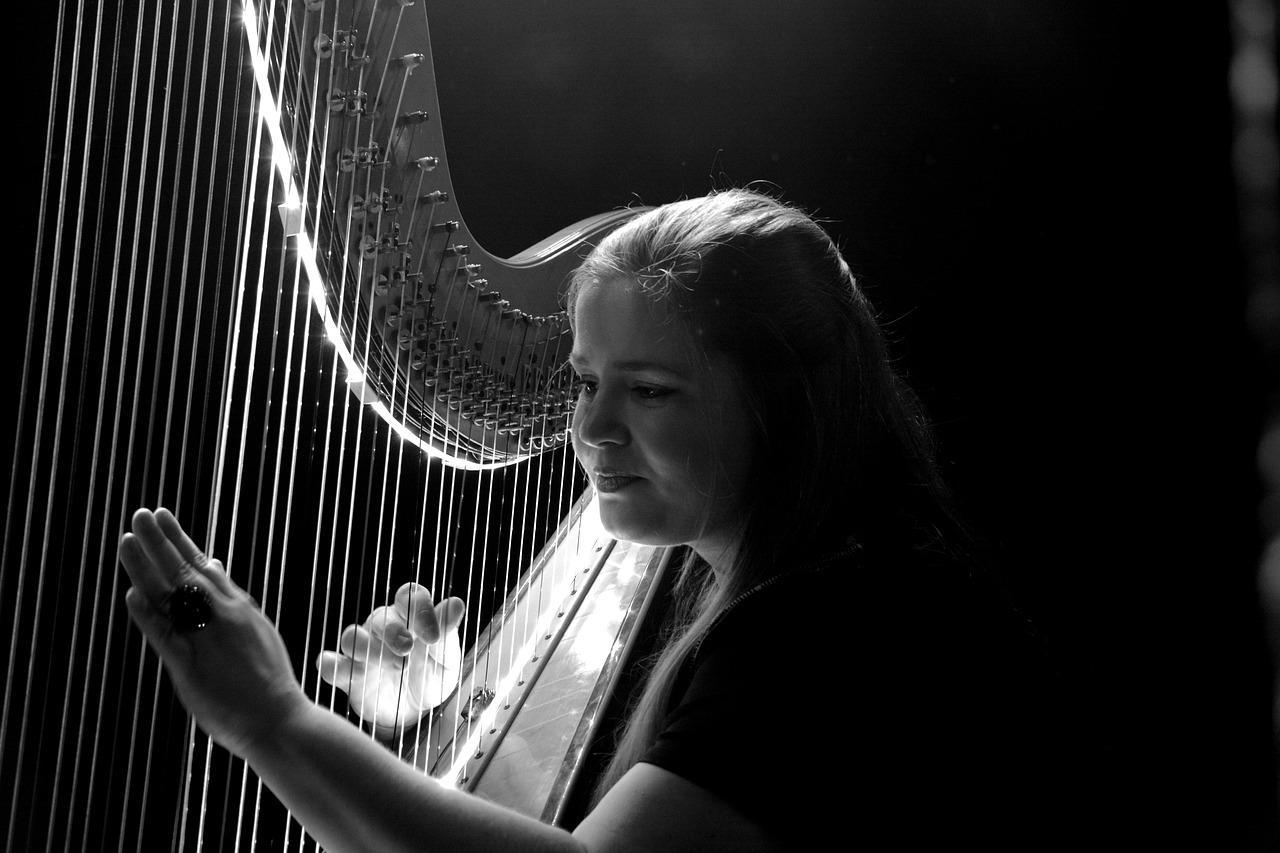 Any day I have a lesson with Mary DeMocker I learn something and experience her gentle encouragement. Mary spreads joy of harping and living, so I always leave happier than I arrived.
-Jane S.
Studio policies
Students may cancel with 24 hours' notice without charge. Makeups will be offered the same week when possible. Lessons start and end at the time scheduled.
I haven't gotten COVID (as far as I know) and, due to asthma, still mask for lessons. You don't need to! An Austin medical-grade air filter is always on (quietly) in my studio.  I'm sensitive to perfumes, so ask visitors not to wear scents on lesson day.
This is an inclusive studio that honors all genders, creeds, nationalities, races, sexual identities. All teaching is grounded in loving kindness and principles of inclusion, tolerance, and justice for all.
Harp Rentals
I currently have several lovely folk harp rentals of various size and cost available, ranging from $35 – $70 / month. Delivery / pickup is available for a fee that depends on location.
Required to start harp rental
For harp rental you must have ID, signed rental contract, first / last month's rent.  I accept cash, check, Venmo, PayPal. Harps are most vulnerable to damage while being moved, so the contract stipulates that harp is not to be transported outside of your home without my permission. I prioritize renting harps to those actively taking lessons; if I have extra harps, I can rent to non-students. One month notice is required when returning harps.
About harp strings
Harps are rented with a complete set of replacement strings and a string chart; renters are required to return harp with a full set of the same brand / quality of harp string (you'll receive info on how to order replacement strings for your harp). One early lesson is usually dedicated to learning to change the different kinds of strings on your harp; there are also tutorials online.
Harp buying consultations
I'm happy to help students or non-students purchase harps. Harps are a big investment and it's worth knowing what you really want, what's available where, and what's high quality (or not). Consultations are the same costs as lessons.
Mary is an attuned teacher who is sensitive to her students' individualized needs. She is always keen to answer my many questions and mindful of my pace. She ensures that my goals and interests are the top priority. It is a rare gift to find a teacher who is not only a gifted musician, but also such a skilled instructor.
-Leticia G.
Our family is so grateful to have the opportunity to learn from Mary. Her lessons are clear, encouraging, and inspiring. She creates a comfortable learning environment and knows how to make her students feel positive while continuing to push them to progress.
My favorite thing about harp lessons with Mary is that she helps me learn things really fast and she's a great teacher.
As a child I took lessons from Mary, and her approach inspired my life-long love of music. She now teaches my 8-year-old and has demonstrated wonderful flexibility and creativity with her unique challenges. Mary's an inspiration on so many levels and a joy to study with at any age!
I've taken lessons from Mary DeMocker for years. Each lesson brings new and useful concepts. Mary is insightful, sometimes hilarious, supportive, and kind. I deeply appreciate her help and guidance with my harp journey. A big "thumbs up" for Mary!
Mary has a fantastic balance of enthusiasm and patience that has led our 9-year-old to a love of harp.