Harp Instruction
with Mary DeMocker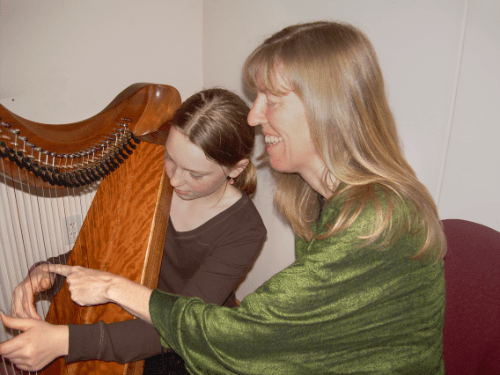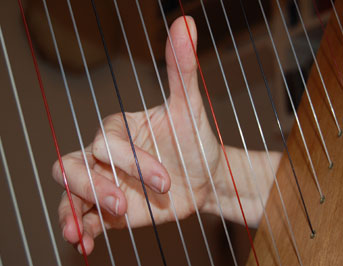 Welcome to the harp, one of the world's oldest and best-loved instruments
I've taught private harp lessons and workshops since 1988 and have recently re-opened my harp studio for in-person lessons.
I currently have several lovely folk harp rentals of various size and cost available, ranging from $30 – $60 / month.
Some info about studying with me:
I teach all levels — beginning to professional —  and all styles (primarily folk and classical) as well as note-reading, improvisation, basic theory and composition. Lessons are custom-made for individual students' learning styles and musical passions.  I am not a Suzuki harp teacher (nor do I know of one in the area) and I teach beginners to read so they can be independent quickly.  I use some Suzuki approaches (ie building community and repertoire; strong ear training; encouragement of parental involvement for young students).
I was trained first in the Spanish or Salzedo method, and later the French or Granjany styles. I now teach using the Granjany style as it is more relaxed and easier on the body.
Folk harp lessons are in my garden studio on a 36-string Dusty Strings harp. You do not need to bring your own harp to lessons.
I teach pedal harp students at their homes (added fee).
I live in South Eugene near the U of O. There's ample street parking and I have a driveway.
Students will need to mask at this time, except for young children or those with difficulty masking. I will mask with an N-95. I'm vaxxed, boosted, and have an Austin medical-grade air filter in my studio.
Costs: $50 /hr and $40 for 45 min; ($30 for 1/2 hr lessons, are available only for young children once they read music). Students may cancel with 24 hours' notice. Makeups will be offered in the same week when possible. Lessons start and end at the time scheduled.
I offer a free 30-minute Meet and Greet so you / your child can see the studio, talk about harp goals and dreams, and decide if we're a good fit.
A little about me:
I began piano lessons at age five and harp at age nine. I eventually studied pedal harp performance at The Eastman School of Music and University of Oregon's School of Music and received a 1987 National Endowment for the Arts grant for harp performance. I've performed  harp widely, including solo appearances at major music festivals, on the streets of New York, and in The Cathedral of St. John the Divine, where I was lucky to work with legendary composer John Cage. I haven't performed publicly of late due to shoulder issues, but love helping students of all ages on their musical journeys.
To schedule a free Meet and Greet, contact me at: Mary DeMocker (at) gmail (dot) com
For more about my other work with the arts and social and environmental justice activism, check out the rest of my website.
This is an inclusive studio that honors all genders, creeds, nationalities, races, sexual identities. All teaching is grounded in loving kindness and principles of inclusion and justice for all.
Samples of my pedal & folk harp playing: