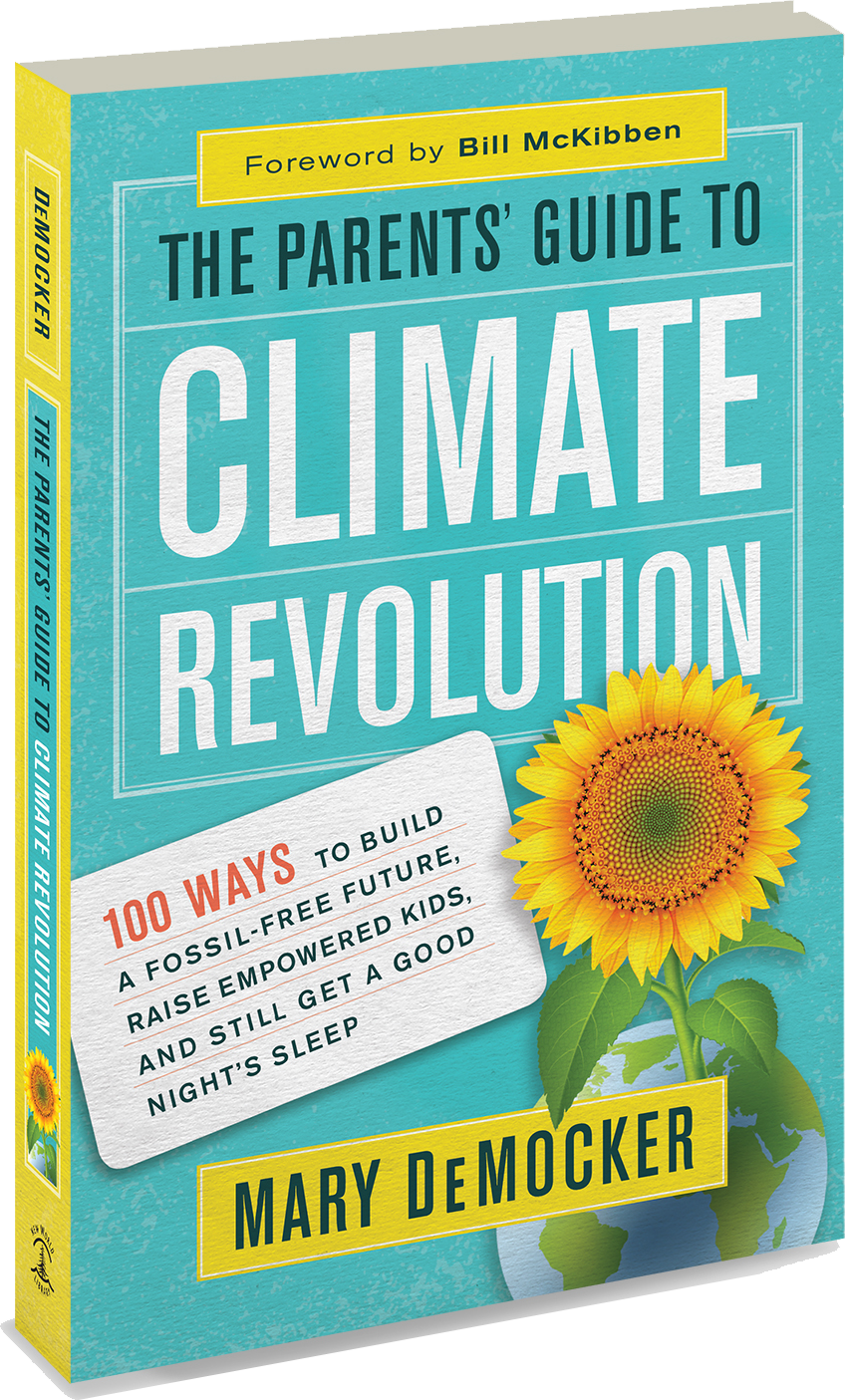 The Parents' Guide to Climate Revolution
100 Ways to Build a Fossil Free Future,
Raise Empowered Kids,
and Still Get a Good Night's Sleep
"A parenting how-to like no other in the age of climate change. . . incredibly refreshing. . . Mary DeMocker's new book is an essential resource for parents."
"...includes tools, resources, and projects to engage kids on climate change."
"This is a book for anyone, of any age, who believes in the power of human creativity, or anyone who needs a dose of hope. It's not too late to seek a newer world."
— Richard Louv, author of  Last Child in the Woods
"Trust me, most of this is going to be fun."
— Bill McKibben, cofounder of 350.org and author of The End of Nature
"A treat to read. I couldn't put it down."
— Mary C. Wood, author of Nature's Trust
"I love this book . . . wonderful, inspiring . . . brimming with ideas"
— Scott D. Sampson, PhD, author of How to Raise a Wild Child and host of PBS Kids Dinosaur Train
"At last, genuinely practical and powerful answers to the question, what can I do to push back against fossil fuels and promote climate sanity? The book is brilliant. It's honest. It's funny. Here's what you can do—right now."
— Kathleen Dean Moore, author of Great Tide Rising
"Wise, subtle, fun, and informative — this is a book to savor, dog-ear, bookmark, highlight, and press into another person's hands."
— Peter Hoffmeister, author of Too Shattered for Mending
"This book will empower you and your children to walk hand in hand to turn the tides, gently but effectively, on the biggest issue we face."
— Xiuhtezcatl Martinez, youth director of Earth Guardians and author of We Rise: The Earth Guardians Guide to Building a Movement that Restores the Planet 
"Encouraging, entertaining and, most of all, deeply empowering."
— Catia Juliana, climate activist and mother of Kelsey Juliana, youth plaintiff in the Juliana v. U.S. climate lawsuit against the federal government
". . . a delightful read . . . DeMocker teaches us that we can parent and save the Earth all at the same time."
"This is a guilt-free roadmap to saving ourselves in order to save the planet."
— Stephanie LeMenager, author of Living Oil: Petroleum Culture in the American Century
"For the love of children and our planet, devour this essential book . . ."
—Julia Olson, Executive Director of Our Children's Trust and Lead Counsel in Juliana v. U.S.
Fight Effectively for a Healthy Planet
Deepen Family Connections
In The Parents' Guide to Climate Revolution,
learn hundreds of wide-ranging ideas,
including how to:
Embrace simplicity parenting
Free yourself from dead-end science debates
Teach kids about the power of creative protest
Change your lifestyle in ways that deepen family bonds, improve moods, and reduce your impact on the Earth
"Mary DeMocker's new book is an essential resource for parents."
— Sierra Magazine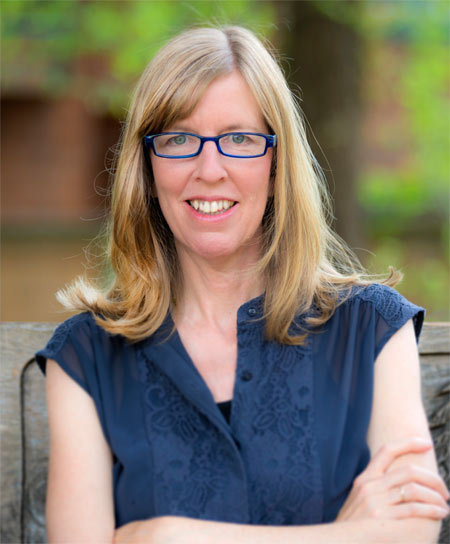 About the Author- Mary DeMocker
Mary uses the arts to advocate for a just, healthy, and fun future. A National Endowment for the Arts grant recipient and co-founder of 350 Eugene, Mary has written for The Sun, Common Dreams, Mothering.com, ISLE, and Spirituality & Health. She lives with her family in Oregon, and can be reached here for media interviews, workshops, and presentations.
Sample Chapter: Dress Up Your Door
(for more chapter excerpts, check out Amazon's preview

here

)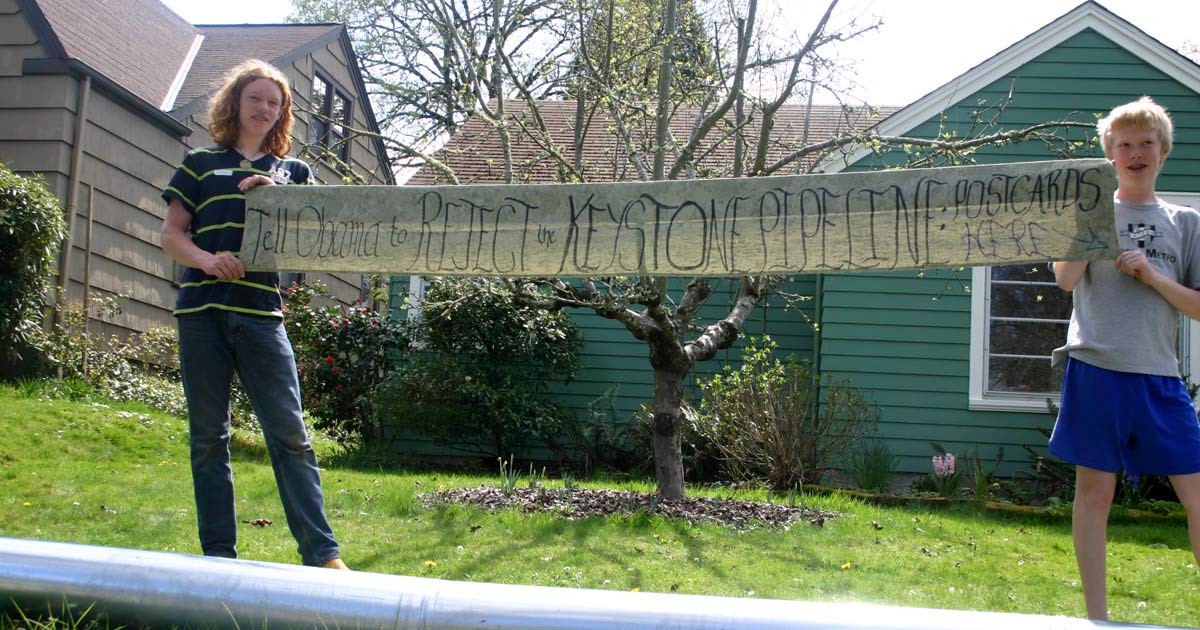 It started with "The Graveyard We Need" as part of the neighborhood Halloween decorations. That led, four years later, to a 450-person human art project in downtown Eugene. Read More>
Upcoming Events
August book review and interview in Sierra, the publication of Sierra Club
Sept. 8th, Rise for Climate Rally & Teach-In, Campbell Center, Eugene, OR
September feature about my work in BiFrost, including excerpts, photos, and video interviews
October 5-7, Environmental Film Festival, Eugene, OR
Interview with Thrive Global - Fall 2018
Fall Parent's Climate Revolution support groups, classes
Oct. 29th Our Children's Trust "Climate Kids" trial begins: Stay tuned for ways to plug in!
Fall workshops and book events in the New York and Washington, DC areas.
November 13th, 5:30pm, Sheldon library, Eugene, OR
December 4th, Bethel library, Eugene, OR
Join Parents across the globe who care about the future of our planet...
Just like you do