Author, Speaker, Workshop Leader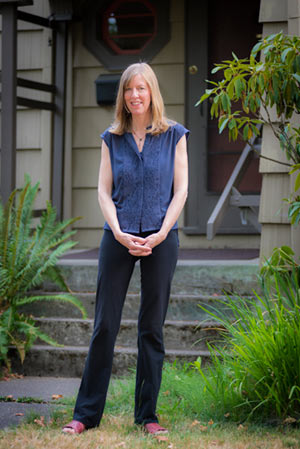 Mary has reveled in an artistic life, performing harp, dressing sets for NYC film productions, and now using the arts to mobilize for climate justice. A National Endowment for the Arts grant recipient, Mary may be the first harpist to perform in both The Cathedral of St. John the Divine, where she worked with composer John Cage, and the subway stop under Bloomingdales. Learn more about Mary's harp teaching.
Mary studied at Eastman School of Music and University of Oregon's School of Music and has performed widely, including solo appearances at major music festivals. She toured schools with the interactive "Incredible Earth Circus" for Earth Day 1990, and was later commissioned to write three children's plays that are still regularly performed across the U.S. and abroad.
When she became a mother in 1996, Mary began to write about conscious parenting in the age of ecological decline. In 2013, Mary co-founded Eugene's chapter of the international climate action group 350.org and became creative director. She leads public art projects and climate justice events, including one featured in a PBS NewsHour broadcast about children suing the government for their right to a livable planet. She lectures regularly on creative disruption, the topic of her interview in the Swedish documentary and multimedia installation BiFrost.
In conjunction with the 2015 Paris climate talks, Mary designed and co-led the youth-centered
Global Climate March & Collaborative Art Project that was featured in the London-based global climate art festival ArtCOP21 and included in an Avaaz video shown to world leaders as they entered UN climate talks.Winner of the 2008 Kay Snow Award for Nonfiction, Mary has published in The Sun, EcoWatch, Common Dreams, Mothering.com, ISLE, and Spirituality & Health. She lives with her husband, children, and several happy chickens in Eugene, Oregon.
Come to an event!
Stay tuned -- more workshops, school visits & book events being planned all the time!
New Interviews, Reviews & Articles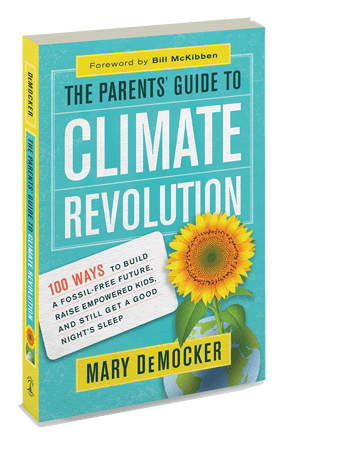 The Parents' Guide
to Climate Revolution:
100 Ways to Build a Fossil-Free Future, Raise Empowered Kids, and Still Get a Good Night's Sleep
"This is a book for anyone, of any age, who believes in the power of human creativity, or anyone who needs a dose of hope. It's not too late to seek a newer world."
— Richard Louv, author of Last Child in the Woods
"Trust me, most of this is going to be fun."
— Bill McKibben, cofounder of 350.org and author of The End of Nature
"Mary DeMocker's new book is an essential resource for parents . . . incredibly refreshing."
— Sierra Magazine
"A treat to read. I couldn't put it down."
— Mary C. Wood, author of Nature's Trust
"I love this book . . . wonderful, inspiring . . . brimming with ideas"
— Scott D. Sampson, PhD, author of How to Raise a Wild Child and host of PBS Kids Dinosaur Train
"At last, genuinely practical and powerful answers to the question, what can I do to push back against fossil fuels and promote climate sanity? The book is brilliant. It's honest. It's funny. Here's what you can do—right now."
— Kathleen Dean Moore, author of Great Tide Rising
"Wise, subtle, fun, and informative — this is a book to savor, dog-ear, bookmark, highlight, and press into another person's hands."
— Peter Hoffmeister, author of Too Shattered for Mending
"This book will empower you and your children to walk hand in hand to turn the tides, gently but effectively, on the biggest issue we face."
— Xiuhtezcatl Martinez, youth director of Earth Guardians and author of We Rise: The Earth Guardians Guide to Building a Movement that Restores the Planet 
"Encouraging, entertaining and, most of all, deeply empowering."
— Catia Juliana, climate activist and mother of Kelsey Juliana, youth plaintiff in the Juliana v. U.S. climate lawsuit against the federal government
". . .an invaluable handbook. . ."
— Jeremy Brecher, author of Against Doom: A Climate Insurgency Manual
"Mary DeMocker . . . makes it easy for us to create a better future for all children."
— Kitty Piercy, three-term mayor of Eugene, Oregon voted "Most Valuable Local Official" (the Nation, 2010)
"This is a guilt-free roadmap to saving ourselves in order to save the planet."
— Stephanie LeMenager, author of Living Oil: Petroleum Culture in the American Century
"For the love of children and our planet, devour this essential book . . ."
—Julia Olson, Executive Director of Our Children's Trust and Lead Counsel in Juliana v. U.S.
" ...includes resources, tools, and projects to engage kids on climate change."
—The New York Times