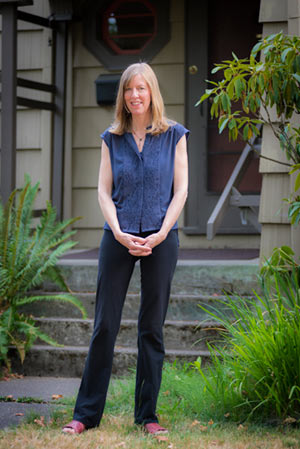 Mary has reveled in an artistic life, performing the harp, dressing sets for NYC film productions, and using the arts and storytelling to fight for a just, healthy, and fun future.
After beginning lessons at age five, Mary studied harp at Eastman School of Music and University of Oregon's School of Music and performed widely, including solo appearances at major music festivals. A 1987 National Endowment for the Arts grant recipient, Mary performed in The Cathedral of St. John the Divine, where she worked with composer John Cage, and on New York City's sidewalks as a street musician. Learn more about Mary's harp teaching.
When she became a mother in 1996, Mary began to write about conscious parenting in the age of ecological decline. In 2013, she co-founded and became creative director of 350.org's Eugene chapter, with whom she led arts-centered climate rallies featured on PBSNewsHour, ArtCOP21, and in the  Avaaz video shown to world leaders at Paris climate talks.
Her 2018 book The Parents' Guide to Climate Revolution: 100 Ways to Build a Fossil-Free Future, Raise Empowered Kids, and Still Get a Good Night's Sleep (foreword by Bill McKibben) was nominated for the 2019 Oregon Book Award and recommended on National Public Radio and in The New York Times. Her writing has been published in The Sun, Truthout, Popular Science, Spirituality & Health, Common Dreams, and Sierra and she's been quoted in The Washington Post, CNN, The Weather Channel, YES!, National Public Radio, WIRED, and National Geographic.
Mary and her family live in Eugene, Oregon, where she writes, teaches harp, and supports and inspires other change-makers.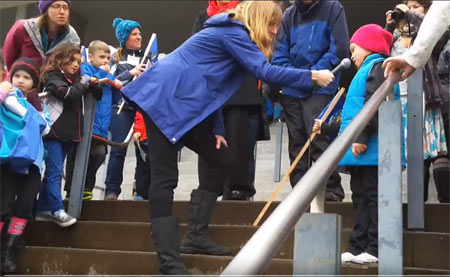 Email Mary DeMocker (at) gmail (dot com)
Connect with Mary on social media:
Selected articles, interviews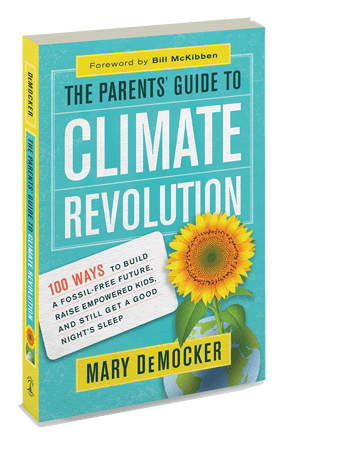 The Parents' Guide
to Climate Revolution:
100 Ways to Build a Fossil-Free Future, Raise Empowered Kids, and Still Get a Good Night's Sleep
"This is a book for anyone, of any age, who believes in the power of human creativity, or anyone who needs a dose of hope. It's not too late to seek a newer world."
— Richard Louv, author of Last Child in the Woods
"Trust me, most of this is going to be fun."
— Bill McKibben, cofounder of 350.org and author of The End of Nature
"Mary DeMocker's new book is an essential resource for parents . . . incredibly refreshing."
— Sierra Magazine
"A treat to read. I couldn't put it down."
— Mary C. Wood, author of Nature's Trust
"I love this book . . . wonderful, inspiring . . . brimming with ideas"
— Scott D. Sampson, PhD, author of How to Raise a Wild Child and host of PBS Kids Dinosaur Train
"At last, genuinely practical and powerful answers to the question, what can I do to push back against fossil fuels and promote climate sanity? The book is brilliant. It's honest. It's funny. Here's what you can do—right now."
— Kathleen Dean Moore, author of Great Tide Rising
"Wise, subtle, fun, and informative — this is a book to savor, dog-ear, bookmark, highlight, and press into another person's hands."
— Peter Hoffmeister, author of Too Shattered for Mending
"This book will empower you and your children to walk hand in hand to turn the tides, gently but effectively, on the biggest issue we face."
— Xiuhtezcatl Martinez, youth director of Earth Guardians and author of We Rise: The Earth Guardians Guide to Building a Movement that Restores the Planet 
"Encouraging, entertaining and, most of all, deeply empowering."
— Catia Juliana, climate activist and mother of Kelsey Juliana, youth plaintiff in the Juliana v. U.S. climate lawsuit against the federal government
". . .an invaluable handbook. . ."
— Jeremy Brecher, author of Against Doom: A Climate Insurgency Manual
"Mary DeMocker . . . makes it easy for us to create a better future for all children."
— Kitty Piercy, three-term mayor of Eugene, Oregon voted "Most Valuable Local Official" (the Nation, 2010)
"This is a guilt-free roadmap to saving ourselves in order to save the planet."
— Stephanie LeMenager, author of Living Oil: Petroleum Culture in the American Century
"For the love of children and our planet, devour this essential book . . ."
—Julia Olson, Executive Director of Our Children's Trust and Lead Counsel in Juliana v. U.S.
" ...includes resources, tools, and projects to engage kids on climate change."
—The New York Times