Author, Speaker & Artivist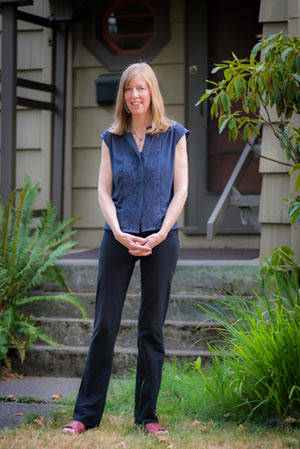 Mary has reveled in an artistic life, performing harp, dressing sets for NYC film productions, and now using the arts to mobilize for climate justice. A National Endowment for the Arts grant recipient, Mary may be the first harpist to perform in both The Cathedral of St. John the Divine, where she worked with composer John Cage, and the subway stop under Bloomingdales. Learn more about Mary's harp teaching.
Mary studied at Eastman School of Music and University of Oregon's School of Music and has performed widely, including solo appearances at major music festivals. She toured schools with the interactive "Incredible Earth Circus" for Earth Day 1990, and was later commissioned to write three children's plays that are still regularly performed across the U.S. and abroad.
In 2013, Mary co-founded Eugene's chapter of the international climate action group 350.org and became creative director. She leads public art projects and climate justice events, including one featured in a PBS NewsHour broadcast about children suing the government for their right to a livable planet. She lectures regularly on creative disruption, the topic of her interview in the Swedish documentary and multimedia installation BiFrost.
In conjunction with the 2015 Paris climate talks, Mary designed and co-led the youth-centered
Global Climate March & Collaborative Art Project that was featured in the London-based global climate art festival ArtCOP21 and included in an Avaaz video shown to world leaders as they entered UN climate talks.Winner of the 2008 Kay Snow Award for Nonfiction, Mary has published in The Sun, EcoWatch, Common Dreams, Mothering.com, ISLE, and Spirituality & Health. She lives with her husband, children, and several happy chickens in Eugene, Oregon.
Upcoming Events
Aug 11: Summer Reading Series Talk, Eugene Public Library, 100 W 10th Ave., Eugene OR, 3pm
July 13, Oregon Country Faire, 3:00 - 4:00 pm, Community Village, Veneta, Oregon
June 22, Yale Climate Connections podcast- available through iTunes, Stitcher, and now also through iHeartRadio- click link after Friday
June 29th, 7 am PT: KPNW 1120 AM, 93.7 FM
Conscious Talk Radio interview with hosts Brenda Michaels and Rob Spears
http://www.kpnw.com/
July 26th, Register Guard column by author Bob Doppelt will feature The Parents Climate Revolution
August 11th, 3:00 pm Eugene Public Library Summer Reading series
Stay tuned for:
Details on the July release of the Swedish documentary BiFrost featuring my interview about activism and "creative disruption"
October workshops and book events in the New York and Washington, DC areas.
November and December 2018: Bethel and Sheldon library author events